Our History
A vision
Bridge Builders grew out of a vision that developed at the London Mennonite Centre (LMC): churches should have a culture of peace.
From its founding in the 1950s, the LMC relied on steady support received from North American partners. In particular, the Mennonite Board of Missions, and then its successor bodies (the US Mennonite Mission Network and the Mennonite Church of Canada's Witness), sent gifted and energetic missionary and volunteer staff. From 1976 to 1990, Directors Alan and Eleanor Kreider shaped the LMC into a resource centre for British churches. Successive Directors encouraged programmes that would promote a culture of peace.
Although the LMC closed in 2011, its role of sharing Mennonite ideas and practices is continued by the Mennonite Trust.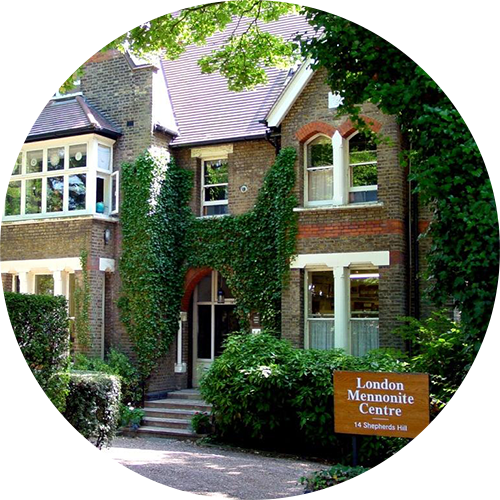 An idea
The original inspiration for Bridge Builders was a three-day mediation skills course led by Ron Kraybill at the LMC in February 1994.
The course was attended by Alastair McKay (then Chair of the LMC Trust and Council) and Nelson Kraybill (then LMC Director), who were also elders in the Wood Green Mennonite Church (WGMC).
Alastair and Nelson drew together a small group of interested participants at the end of the course who later established a voluntary community mediation service in the London Borough of Haringey, launched in February 1995.  The initiative closed in around November that year because it proved unviable: those involved were over-committed, and trying to do it in their spare time.  Throughout the second half of 1995, Alastair and Nelson explored the possibility of establishing a project focussed on serving the church, that was complementary to the LMC's wider ministry.